Royal Solutions Group.
Royal Solutions Group is a leading provider of software and services in Radiology. Royal's suite of solutions focuses on patient, provider, operational, and financial workflows that optimize engagement in all areas of patient care and practice management.
Royal utilizes straight through processing (STP) to automate information movement through electronic transactions resulting in the elimination of manual data entry. This results in significantly fewer low-value activities leading to improved patient care and provider satisfaction as well as enabling a level of accuracy and controls in the work that is otherwise unachievable.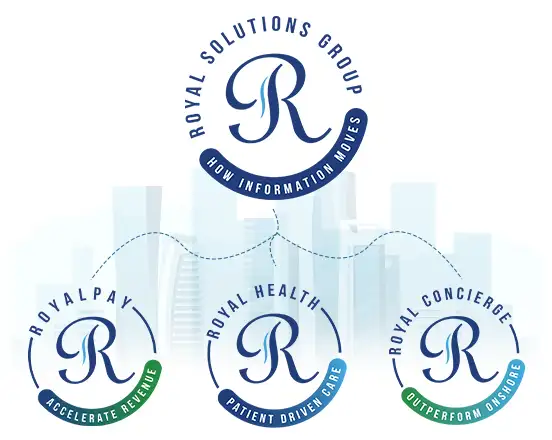 Royal

Straight-Through Processing.

Royal Enterprise Care and Revenue Management applies STP to all aspects of the imaging workflow.
Royal Solutions was founded in 2008 by Peter Nassif.
Headquartered in White Plains, NY, with offices in Nashville, TN and Jefferson City, MO.
---
Royal's leadership team offers over 180 years of collective experience in technology, radiology, financial services, management consulting, billing services, and other healthcare fields.
---
Royal's workforce consists of a Solutions Delivery team that is spread across the country bringing the right skills and experience to the right customer at the right time.
How Information Moves
Royal's infrastructure architecture is designed for infinite horizontal scalability, dispersed edge nodes, and geographic load-balancing
---
Royal understands that information is more than just getting data from point A to point B. Information in the right hands, at the right time, and for the right cost remains a key differentiator of successful companies.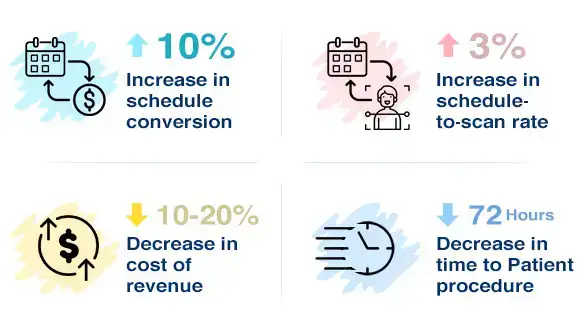 Straight-Through Processing in Healthcare.
Straight-through processing in healthcare is enabled when every part of the customer journey is managed with real-time, self-service automation. Designed to engage the patient and the provider throughout the entire radiology workflow, Royal delivers straight-through processing workflows to Imaging, achieving the true promise of self-service.