Contactless Patient Workflows
The global pandemic has forced the healthcare community to drastically re-think how they engage with their patients. With current safety mandates, overcrowded waiting rooms are a thing of the past.
Royal's Patient Experience platform is designed to create significant efficiencies for your practice by helping you to optimize workflows, improve the care experience, and boost bottom line in today's healthcare facilities.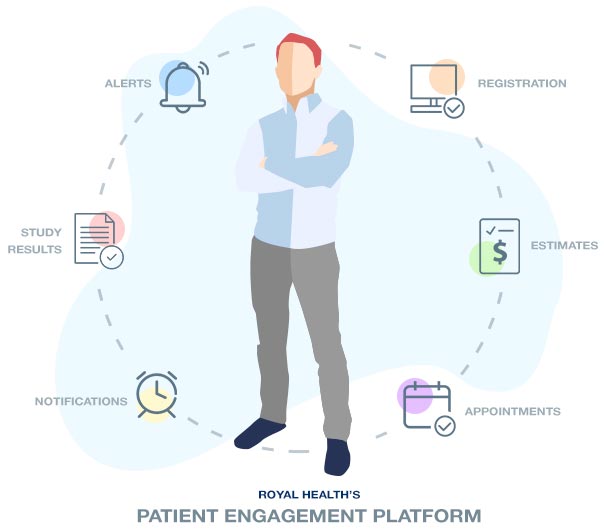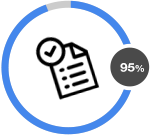 95% patient utilization of self-service registration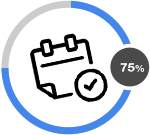 75% reduction in patient check-in time - from an average of 20 minutes to 5 minutes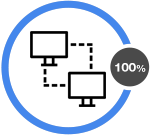 100% automated data transfer to existing systems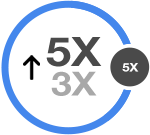 3x to 5x increase in pre-service and time-of-service collections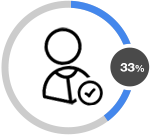 33% reduction in patient no-shows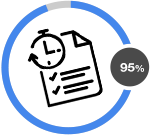 95% completed exam rate when patients pre-register
Contactless Patient Experience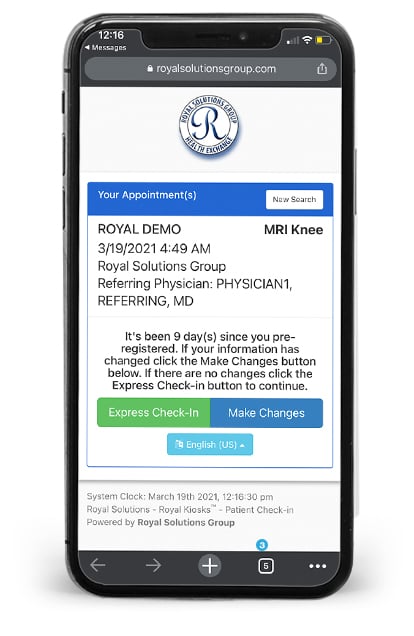 Alerts
Send alerts inviting patients to call into your scheduling department, significantly reducing outbound calling. Or better yet, invite them to self-schedule with a one-time use link.

Registration
Complete all registration paperwork from the comfort of their own home and provide medical history through Royal's Patient Portal well in advance of exam date. The platform automatically alerts your staff to any contraindications or other flags of importance to you.

Accurate Estimates
Provide patients with highly accurate estimates of what their out of pocket expenses will be and pay their bill from home or from any smart device prior to their visit, significantly reducing overhead and costly no-shows.

Appointments
Confirm their appointment date, and even alert your staff when they have arrived for their exam, and check-in via any personal mobile device.

Notifications
Safely stay in their vehicles until the platform automatically notifies them when it is time for their exam, minimizing contact with other patients and front office staff.

Study Results
Patients have access to reports and images from home or on the go, eliminating in-person requests, staff time and media cost associated with providing patients with hard copies of exams.
"Our goal is to have 90% of our patients, that are scheduled, actually scanned and that involves a tremendous need to engage with patients, to remind them of appointments, to give them prep instructions… Royal Alerts is helping us do that by automating the process."
Ken Brande
Director of Enterprise Technology
Imaging Healthcare Specialists

"My great frustration as a patient is… I'm given five forms and have to put my name and address and DOB on every single one... We have worked very hard to have [information] retained so patients don't have to be asked the same questions over and over again… It's faster, its more efficient for us and also for the patient."
Chip Hardesty
COO -Radiology Ltd.
"The biggest key benefit we have seen from Royal has been revenue… We were totally blind to how much [patients] owed us last year at this time. This year we know exactly what they owe and it's all because of the software that we are running through Royal. It has been a godsend in the sense of keeping our company afloat and keeping us competitive."
Dr. Randy Hicks
CEO - Regional Medical Imaging
Let's Connect
We want to help your practice prioritize safety, optimize workflow and reimagine patient experience, all while boosting your bottom line, with Royal's patient experience solutions.
© 2021 Royal Solutions Group, LLC | Privacy Policy