Roya Solutions Group
Self-Service Care
Royal helps you eliminate waste, achieving a 20% or higher bottom line improvement. By applying real-time self-service automation and implementing straight-through processing methods to every step of the imaging lifecycle, Royal delivers on the promise of true automation for your Radiology practice.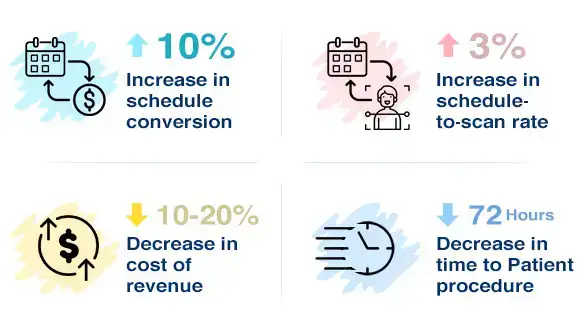 How Information Moves
White Paper
Straight-through processing in healthcare is enabled when every part of the customer journey is managed with real-time, self-service automation. Designed to engage the patient and the provider throughout the entire radiology workflow, Royal delivers straight- through processing workflows to Imaging, achieving the true promise of self-service.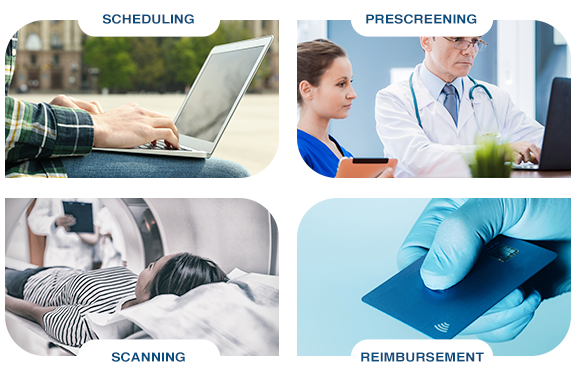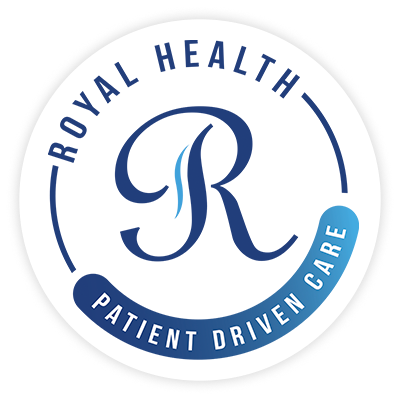 Solutions At-A-Glance!
Patient Engagement
✓ Increased patient engagement
✓ Streamlined registration
✓ Self-Scheduling
✓ Transparent payment processes
Provider Engagement
✓ Enhanced referring provider engagement
✓ Robust interoperability
✓ Complete clinical decision support
✓ User-friendly Order Management Solutions
Royal Solutions Group
Patient Engagement Workflows
A complete suite of self-service workflows designed to engage the patient throughout the entire Radiology lifecycle. Transform the patient experience, improve care, accelerate revenue and address long-standing inefficiencies in screening, scheduling and technologist workflows with Royal's patient engagement solutions.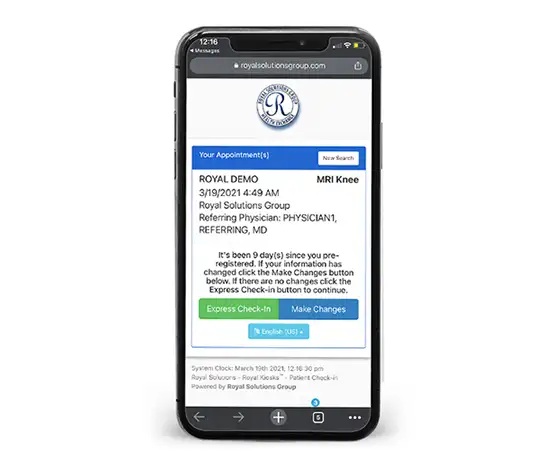 Provider Engagement

Workflows

Provide the flexibility and transparency referring physicians desire, beginning with order submission and self-scheduling of exams through final results and images. Royal's provider engagement solutions save time and resources for every stakeholder in the healthcare transaction while increasing provider loyalty. Learn More >>
Director of Enterprise Technology
Ken Brande
"Our goal is to have 90% of our patients, that are scheduled, actually scanned and that involves a tremendous need to engage with patients, to remind them of appointments, to give them prep instructions… Royal Alerts is helping us do that by automating the process."
Imaging Healthcare Specialists
Nicole Brown
"Handing [patients] the iPad and having all the information captured in one place is fantastic. We don't want to run the risk of losing paper…feeling like something's not legible. The fact that it transfers into the tech portal, into one singular database makes it that much easier for us."
Business Development - MBB Radiology
CEO
Dr. Randy Hicks
"The biggest key benefit we have seen from Royal has been revenue… We were totally blind to how much [patients] owed us last year at this time. This year we know exactly what they owe and it's all because of the software that we are running through Royal. It has been a godsend in the sense of keeping our company afloat and keeping us competitive."
Regional Medical Imaging
We want to help your practice eliminate waste, optimize workflows and reimagine the patient and provider experience, all while boosting your bottom line.
For patients seeking information regarding healthcare services, please contact your provider directly.