Royal Solutions Group
RoyalAlerts®
Automatically engage with your patients and providers delivering status updates from the moment an imaging order is received through payments collected. Our completely customizable engagement campaigns allow you to connect on any platform as often as you see fit.
Portal status updates | Mobile app | Text | Robo-call | Email | Direct message | USPS
Schedule exam with a one-time use link
Pre-register for an exam
Prepare for an exam
Appointment confirmation
Estimate charges so no surprises at exam time
Notification that results are available
Notification of payments due
Any messaging you can imagine


Real-time eligibility checks at time of scheduling and any other time you choose


Automated prior-authorizations via integrated Ai solutions and FastBot technology


Accurate estimations using the power of eight independent clearing houses


Automatically engaging with patients at the point of scheduling, at the point of registration, and at the point of billing
Collections
Increased 20%
Automated Clinical Workflow
Completing medical forms digitally is the most complete and efficient way for providers, patients, and technologists to record clinical and demographic information.

Royal's fully integrated Kiosk technology enables online and onsite data entry and eliminates redundant effort. No more clipboards and only ask for new information because when the Royal system knows information anywhere, it knows it everywhere.. No more clipboards!!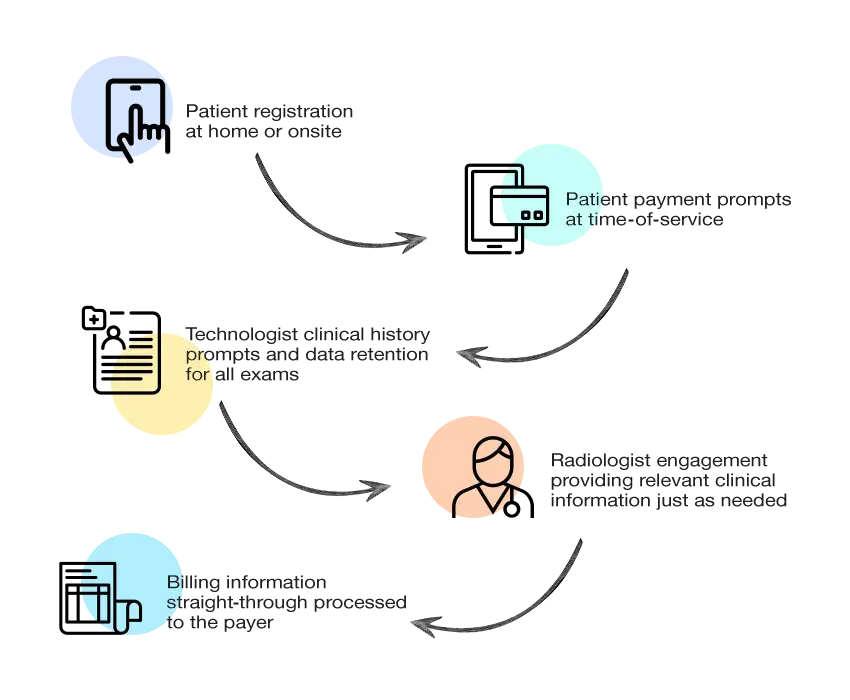 Send electronic orders directly from provider's existing EMR
No problem


Deliver clinical information directly into existing PACS
No problem


Deliver clinical information directly into existing voice recognition system
No problem


Deliver billing information directly to existing billing vendor
No problem
No problem building interfaces with existing systems!
Business Intelligence!
The old adage that you can't manage what you don't measure has never been truer. Royal analytics gives you insight into every aspect of your practice so that you can manage more efficiently and more profitably.
From order-to-scan conversion rates to days in accounts receivable to patient wait times, Royal gives you clear vision to manage your practice.